"Victoriously implementing program 504's set goals"
(03/01/20 14:51)
The country is currently home to 6.1 mn ha of land contaminated with post- war landmines and UXO, accounting for 18.82% of the whole country's total land area. 63 out of 63 provinces and cities have been reported UXO contaminated, mostly in the central region.
From 1975 until now, wartime landmines and UXO have claimed over 40,000 lives, injured more than 60,000 victims, a majority of whom are laborers, children and ethnic minorities.
Over the past time, there have been more than 2,000 officers, soldiers as well as engineer soldiers injured during disposing of bombs and mines and UXO.  Given that the efforts and silent sacrifices of the engineer troops are enormous, it has yet to put an end to accidents caused by landmines and UXO.
Right after the war ended, the Party and State have determined that overcoming the consequences of war – left landmines and UXO must be an urgent but long - term task.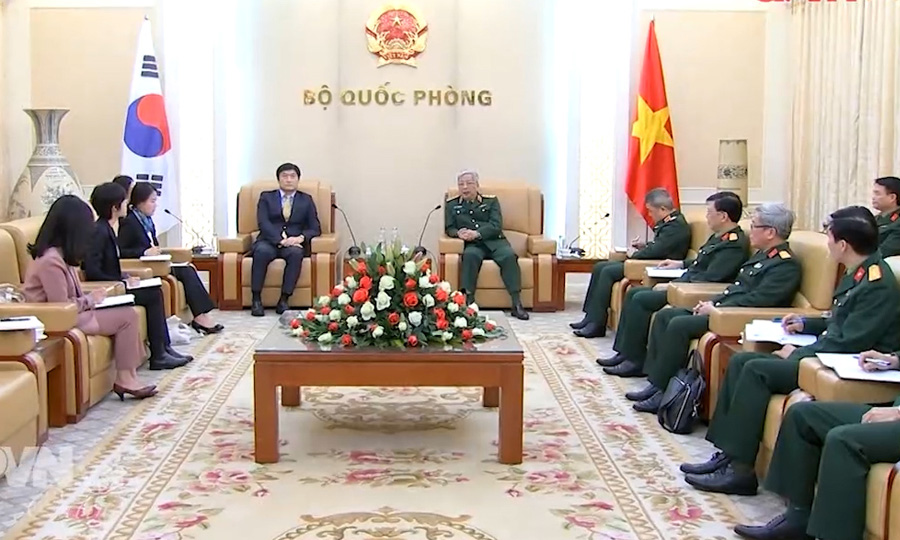 On April 21st 2010, the Prime Minister approved the National Action Program on overcoming post-war bomb and mine consequences during 2010-2025 (Program 504) with an aim to mobilize domestic and international resources to allevate and then, totally offset the impacts of landmines and UXO in service of the socio-economic development while ensuring people's safety and helping victims integrate into the community life.
In details, in the period of 2010 - 2015, the Program 504 has carried out investigation, survey and mapping of landmines and UXO contamination areas nationwide, at the same time, established a center to manage data on wartime landmines and UXO victims and contamination situation for countermeasures. In the 2016-2025 period, the Government has targeted the clearance of about 800,000 ha of contaminated land area while pooling domestic and international resources for the implementation of the program and arranging the resettlement for people in heavily contaminated areas, at the same time, incorporating mine action projects into local socio-economic development plans.
In particular, in 2018, the Prime Minister has allowed the Vietnam National Mine Action Center to publish maps and data on the current situation of landmines and UXO throughout the country, which has resulted from the implementation of the survey project on landmines and UXO pollution across the country for years. The release of the map and data on landmines and UXO pollution is expected to help the government formulate priority policies in the national socio - economic development strategy.
To meet the urgent but long - term task, the Prime Minister issued Decision No. 701 on May 24th 2017 on the establishment of the National Steering Committee for Overcoming the Consequences of Chemical and Explosive Remnants of War (Steering Committee 701 in short). The Steering Committee is tasked with studying and proposing solutions to solve important and inter-branch issues while mobilizing resources at home and abroad to quickly overcome the consequences of war – left landmines and UXO in Vietnam.
Besides the efforts of the Vietnamese Government, over the past year, the international donors and non – governmental organizations have also provided valuable supports in terms of equipment and finance for the settlement of post- war UXO consequences in Vietnam. The Vietnamese government always highly appreciates and looks forward to further receiving the cooperation and assistances of the international community. Over the past years, Vietnam has been making efforts to clear up war – left UXO contaminated areas. Thanks to domestic resources and international aids, every year, Vietnam has cleared up 40,000 - 50,000 ha of UXO polluted land area. As expected, it will take more than 100 years for Vietnam to totally dispose of landmines and UXO nationwide, which may cost an estimated amount of more than $10 bn, excluding costs for resettlement and social security maintenance in UXO contaminated areas.
In parallel with the UXO clearance operations, there have been a series of mass dissemination and education activities on landmines and UXO accident prevention among citizens, especially children in key areas.
Tens of thousands of people have accessed landmines and UXO risk education programs which have made positive contributions to raising public awareness about UXO accidents, allowing them to live and work safely in the contaminated areas.  
In recent time, the work of helping UXO victims re – integrate into the community has always been paid special attention to by agencies at all levels as well as the entire political system. The assistances for UXO victims in community re - integration has been effectively performed by the Ministry of Labor, Invalids and Social Welfare, the Vietnam Bombs and Mines Action Support Association, localities and several non-governmental organizations. The resettlement  has received due care and attention by the government through specific programs and projects in localities.
Currently, more than 40 social work centers and more than 400 public and non-state social welfare and rehabilitation centers have been established nationwide to support people with disabilities, including those exposed to landmines and UXO. So far, 100% of UXO victims have enjoyed preferential policies, health insurance cards, physical rehabilitation, vocational training and job opportunities to stabilize their lives.
In particular, the plan to support UXO victims in re - integrating into the community in association with the Support Program for Persons with Disabilities in the period of 2017-2020 has been developed with a focus on activities to timely treat UXO victims and provide them with means of livelihood while building a social service development mechanism.
There has been much work for us to do. But I firmly believe that by 2025, Vietnam will have earned fruitful results in the field of post-war landmines and UXO remediation, thus effectively realizing the targets set by Program 504./.
Senior Lieutenant General NGUYEN CHI VINH, Deputy Minister of National Defense, Head of Office 701